We're Having a Bash!
TICKETS ON SALE NOW! CLICK HERE
Save the Date!: March 29, 2018, 6:30 to 9:00 p.m
Friends of CRLS's 2nd Annual Bash
Host / Location: Google, Kendall Square
To buy tickets, become a sponsor, or donate, click here
Last year, our first Bash was a smash! Hosted and catered by Google, the event – which sold out a week in advance – drew 250 guests, student entertainers, and luminaries and featured delicious food and great door prizes. Best of all, the Bash raised over $50,000 to support CRLS student success! Please help us make our second annual Bash our second annual smash by spreading the word, buying tickets early, and joining our planning team, where there are lots of roles for all. Want to join the team or have questions about the Bash? Contact [email protected] or 857.235.9290.
For information about tickets, sponsorships, or donations, contact [email protected] or 857.235.9290.
---
---
Our 10th Year Annual Report is Here!
Winner of "Best in Annual Reports @ FOCRLS"
Good Read – Great Photos
We're delighted to share our Limited Edition 10th Year Annual Report! CLICK HERE to view our Annual Report online. Highlights include reportage of our 10th Year Birthday Bash, quotations from and photos of our scholarship awardees, and details about how we raised over $200,000 this past fiscal year to support opportunities at CRLS.
---
Slideshow about FoCRLS
Friends of CRLS's new slideshow, which features photos of many of our awardees, is a great overview of our programs, impact, outreach, and fundraising. We hope you will take a few moments to scroll through the .pdf of the Friends of CRLS slideshow here.
---
FOCRLS' Newest Student Prize Announced!
We are excited to announce the newest student prize: The Calvin Hicks Memorial Award for the Study of Music. Please support this award generously in its inaugural year!
---
FOCRLS' Newest Scholarship Announced!
We are excited to announce the newest student scholarship: The Rose and Victor Rifkin Family Scholarship. Please support this scholarship to help the next generation reach the American dream.
---
InvestCRLS Campaign Announced!
InvestCRLS is a new community-opportunity campaign to close in on the opportunity and achievement gaps at CRLS and unleash the diverse and extraordinary talents of our 1800+ students. It includes a new major donor ($1,000+) campaign and an exciting "100 x 100" business initiative. … Continue Reading
---
Our Mission
The mission of the Friends of Cambridge Rindge and Latin School is to develop, support, and enrich the academic and social development programs at Cambridge Rindge and Latin School and to support the alumni of CRLS and its predecessor schools. In so doing, FOCRLS promotes achievement and a greater community investment in the future of CRLS, its current students, and its graduates. Friends of CRLS is a tax-deductible 501(c)(3) non-profit association founded by two CRLS parents in 2006.
Donate to ​the FOCRLS General Fund
Become a Bash Sponsor!
Donate to 100 by 100 Cambridge Business Community Scholarships
---
5% Day and $17,840 for FoCRLS from Whole Foods
April 6, 2017 was 5% Day for Friends of CRLS at Whole Foods Market stores, a four-location event that earned our organization a donation total of $17,840! All proceeds benefit the students, grads, and faculty of Cambridge Rindge and Latin School. Student and adult volunteers attended FoCRLS tables at all four participating stores — Prospect Street, River Street, and Fresh Pond in Cambridge as well as Beacon Street in Somerville — representing CRLS and FoCRLS and reminding shoppers that 5% of their entire purchase helps bring opportunities to Cambridge's only public high school. On May 26, there was an official presentation at the Fresh Pond store with a giant check bearing the donation amount. FoCRLS Executive Director Elaine Schear says that the Whole Foods contribution is "the kind of generous corporate investment in our whole student community that will have a broad impact on their learning and aspirations. Students and parents came out in force to be a presence in the stores throughout the day on April 6th.They understand the significance." Thank you to Cambridge and Somerville Whole Foods Marketing & Community Liaison Matthew Keller, the managers and team members of the four stores, our student and adult volunteers, and everyone who shopped that day!
---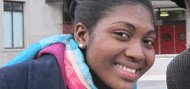 ​Faculty Innovation Grants Announced Friends of CRLS is delighted to congratulate the 2017/18 school year awardees of our Faculty Innovation Grants!  Thanks to numerous generous donors, FOCRLS was able to award a total... READ MORE