The CRLS National Science Olympiad Team
supported by a FOCRLS Faculty Grant to Kris Newton (at far left), physics teacher and instructional coach.
Welcome to Friends of CRLS (FOCRLS)
The mission of the Friends of Cambridge Rindge and Latin School is to develop, support, and enrich the academic and social development programs at Cambridge Rindge and Latin School and to support the alumni of CRLS and its predecessor schools. In so doing, FOCRLS promotes achievement and a greater community investment in the future of CRLS, its current students, and its graduates. Friends of CRLS is a tax-deductible 501(c)(3) non-profit association founded by two CRLS parents in 2006.
Upcoming Events
FOCRLS Volunteer Meetings 2013-2014
Wed., Jan. 22 – 7:30-9pm (Pearl K. Wise Library, 2nd floor – Rindge [Main] Bldg.)
Wed., March 26 – 7:30-9pm (Pearl K. Wise Library, 2nd floor – Rindge [Main] Bldg.)
Wed., May 28 – 7:30-9pm (Pearl K. Wise Library, 2nd floor – Rindge [Main] Bldg.)


News
CRLS Alumni Homecoming and First Annual Alumni Meeting 2013!
The CRLS Alumni Project and FOCRLS enthusiastically invite all graduates of CRLS, CHLS, and Rindge Tech to return to campus for Homecoming events from Nov. 25 through December 6, 2013, including the first annual CRLS ALUMNI ASSOCIATION MEETING on Nov. 29. Please RSVP at https://crlshomecoming2013.eventbrite.com/ to reserve your spot for one or all of the many activities planned. Reunite with your former classmates!
FOCRLS Annual Report Released for FY2013 (11/22/2013)
Read here about accomplishments of Friends of CRLS during the past year, and the support of parents, alumni, and community members for the students and faculty of CRLS.
FOCRLS Travel Fellowship Applications Now Available for 2013-2014 (10/1/2013)
FOCRLS is now accepting need-based applications from students for domestic and overseas school trips for the 2013-2014 academic year. Here is the overview of the fellowship, and here is the application to apply for funding. Please see "Our Programs" tab above for more information on FOCRLS programs.
Launch of The Dr. David A. Link Scholarship Fund (9/23/2013)
FOCRLS is pleased to announce the launch this fall of The Dr. David A. Link Scholarship Fund. The scholarship was established by the family, friends, colleagues, and patients of David A. Link, M.D., upon his stepping down as Chief of Pediatrics at The Cambridge Health Alliance. This scholarship will be awarded to a CRLS student of excellent character who plans a career dedicated to public health or medical care. Donations are welcome! More information on the scholarship is available here.
FOCRLS Goes to Google Cambridge (9/13/2013)
On September 12, 2013, Google Cambridge invited FOCRLS to present at the Google Cambridge "Thank Goodness It's Thursday" employee gathering to build awareness about CRLS, and why and how they could support our students. Principal Damon Smith spoke, there was a presentation by the student group Speak UP, and employees had the opportunity to make a contribution to one of four FOCRLS programs. This support of FOCRLS was part of a broad month-long employee education initiative conducted at Google Cambridge.  Thank you Google neighbors!! … Continue Reading
First Business Community Breakfast held on June 13th (6/14/2013)
The first ever Business Community Breakfast was hosted by and for FOCRLS on June 13 at the high school. It was a wonderful gathering of committed community members, faculty, students and parents.  … Continue Reading
To read more FOCRLS news, click here.
Donate to Scholarships Initiative
Sign Up for our Email List
FOCRLS goes to Google Cambridge.
FOCRLS goes to Google Cambridge — CRLS student reads a poem.
FOCRLS House Party with special guest Principal Smith.
CRLS seniors take part in a new college success program sponsored by Friends of CRLS, called "It Takes a Village."
Cheerful volunteers at the FOCRLS table on 5% Day at the Whole Foods Fresh Pond store.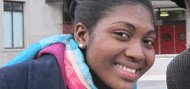 Help us provide inspiration and opportunities for Cambridge high school students.