FOCRLS News
Zora, who was our student assistant for four-and-a-half fleeting months, made a major impact on our work and morale here in the FOCRLS office. Her last day with us was Thursday,... READ MORE
Friends of CRLS Presents $51,500 in

College Scholarships

to the CRLS Class of 2019
Friends of CRLS presented $51,500 in the form of 40 College Scholarships to deserving, dedicated members of the CRLS Class of 2019 on Thursday, May 16 at CRLS's Scholarship Night. These bright students are aspiring scientists, doctors, nurses, engineers, advocates, teachers, and more, ready to pursue degrees so they can make substantial differences in the world.
Additionally, we'll be making installments to three recipients of multi-year scholarships who are currently attending college, for a 2019 total of $53,000.
Congratulations to our awardees and thank you to our generous donors and scholarship sponsors who made these awards possible!
Thank You to Our 2019 Scholarship Sponsors
Bayard McCoy Memorial Fund
Cambridge business community members
Gardner family
Patrick Ewing
Family and friends of Calvin Hicks
Family, friends, colleagues, and patients of Dr. David A. Link
Family and friends of Rose & Victor Rifkin and their descendants
Juliette Kayyem & David Barron
John Leydon
Neil & Katie Rosenburg
Dr. Christopher Saheed
Mary Tavares Sutula & family
If you're interested in establishing or sponsoring a college scholarship, please contact us.
Thank you to our Spring Raffle Prize Donors

Prizes will be mailed to winners in early June.
B Cummings Hair Salon
Bonny's Garden Center
Harvard Museums of Science & Culture
The Porter Square Hotel & Colette Bistro
The Williams Agency / Boston JerkFest
and more….
If you run a business in the Cambridge area and would like to donate a gift card/certificate as a raffle prize, please mail your donation to:

Friends of CRLS Raffle
P.O. Box 391541
Cambridge MA 02139

Your business's name will be listed on our website,
in email blasts to ~6,000 contacts, and in our annual report. Thank you!
If you have questions, please contact us at [email protected]focrls.org or 857-235-9290.
Thank You to Our Spring 2019 Bash Event Sponsors, Donors, Guests, Committee Members, Volunteers, Presenters, and Performers!
Our 2019 Spring Bash on February 28 celebrated another year of supporting student success and, even more importantly, raised funds to assist members of the CRLS Class of 2019 with college scholarships, grads with multi-year college scholarships, students with travel fellowships for upcoming CRLS trips to Japan and Greece & Italy, and CRLS faculty with grants for creative ways to enrich learning for students in grades 9-12.

Photos by Zora Neale Walton . Scroll down to see more photos below!


Extra Big Thanks to Our 2019 Spring Bash Event Sponsors:

Falcon Level: $10,000
Benefactor Level: $2,500
DivcoWest / Cambridge Crossing
Elaine Schear
Co-Founder, Friends of CRLS
Trinity Property Management, Inc.
Champion Level: $1,000
Alexandria Real Estate Equities
Anonymous (2)

Maria & Greg Jobin-Leeds
Massachusetts Institute of Technology
Supporter Level: $500
Tom & Nancy Akbari

Gerald & Kate Chertavian

East Cambridge Business Association
Tracy & Bertil Jean-Chronberg
Jamie Ann Sabino & Richard B. Klibaner

Daniel Serfaty & Irene Mizrahi

3MJ Realty / Ten Essex, Central Square
Friends of CRLS 2019 Spring Bash
February 28 at Google, Kendall Square

Photos by Zora Neale Walton
Tweet from Mass. State Rep. Marjorie Decker
Photos courtesy of Rep. Decker's office
Meet a Few of Our Many Highly Deserving Awardees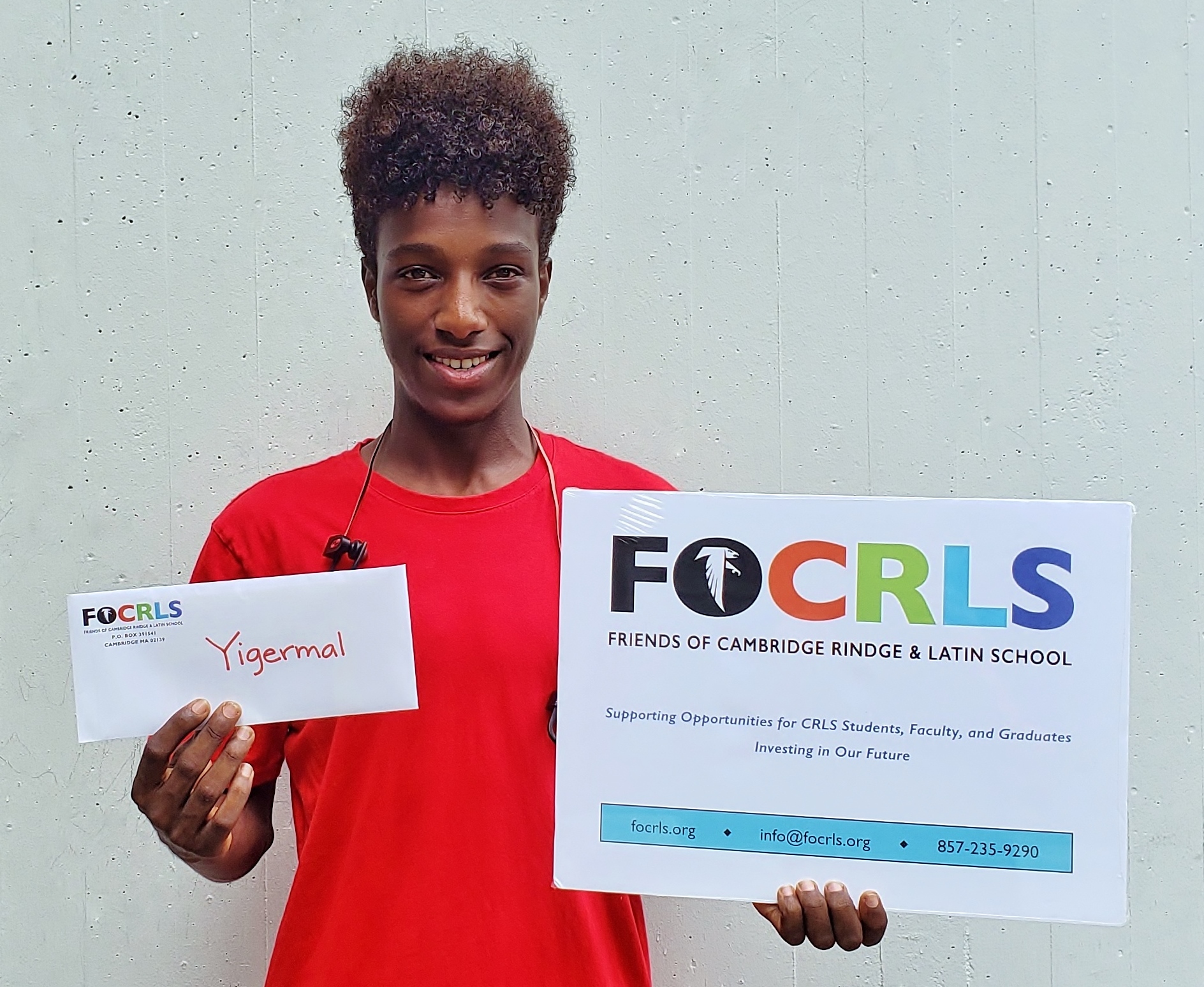 Donate to ​the FOCRLS General Fund
Donate to our Scholarship General Fund
Donate to 100 by 100 Cambridge Business Community Scholarships
Sign Up for Our Email List
Student Travel Fellows
Lorra, Isaiah, Summia, and Reggie
in Ecuador, on a 2018 trip that included
the Galapagos Islands
Rakeyah (holding FOCRLS sign),
CRLS Class of 2018 recipient of the
"100 by 100" Cambridge
Business Community STEAM Award
for Science, now studying at
UMass Amherst: "I want to become
a biotechnologist to have
experiences where I can not only satisfy
my great passion for science but also help
people be healthier and to find
breakthrough cures that will save lives."

Lamisa, CRLS Class of 2018 recipient of the
First Scholars Award and the
Dr. David A. Link Scholarship for the
Health Professions, now studying at
Simmons University:
"I am now studying Neuroscience,
Computer Science, and Public Health
in hopes to find which one (or two!)
I enjoy best. I'm thankful for receiving these
scholarships and I am the happiest
I could be at Simmons.
Thomas, Class of 2018 awardee of the
Juliette Kayyem & David Barron Scholarship
for Children of First Responders — now
studying marine biology at the
University of Rhode Island —
and his family, including his dad, who,
before retiring, served as a
Cambridge police officer for 30 years

Xolotl, Class of 2018 awardee of the
CRLS Core Values Scholarship and the
Colonel & Mrs. Henry Bayard McCoy Memorial
Scholarship, whose "aspirations are to become
a professor who can write, teach, and research
about Latinx masculinity and gender, and the
unseen impact it has on people's
everyday lives," is now studying at
Stanford University.
---