To see our Online Auction visit our Event Page>>
Emcee Juliette Kayyem
Special Guest State Representative Marjorie Decker
Live Music by The Jazz Cats Quartet
Live Auction
---
Live Auction Items Announced!
Our Live Auction is part of our Spring Bash on February 28. Purchase your ticket online now, if you haven't already, so you'll have the chance to be the highest bidder on something splendid!

Here are the five offerings up for bid in our brief but sure-to-be-lively live auction:
Flower Cottage: 'Wistaria' 3-Night Stay
Take pleasure in a 3-night stay in an iconic North Truro Flower Cottage, 'Wistaria.' Get away from the bustle of the city and enjoy the fresh sea breeze at this uniquely renovated beachfront cottage, which has been featured in Boston Magazine. Steps from Cape Cod Bay, less than a mile from P'town, Race Point, the Provincelands Trail, and Head of the Meadow Beach, this charming cottage is the place to be!

Estimated value: $500
Starting bid: $300
Availability: March/April/Sept/Oct/Nov 2019
Donated by: Susan Bernstein
Photo by: Madeline Bilis
Red Sox Fan-tastic Package
Red Sox fans, you won't find a more exciting package than this! You'll have lunch with Boston Globe columnist Dan Shaughnessy at Central Square hot spot Little Donkey ($50 restaurant gift certificate), receive a signed copy of the book Fenway by Dan Shaughnessy and Stan Grossfeld, get 4 Infield Grandstand tickets to a Red Sox game, take a pre-game VIP tour of Fenway Park, and keep a framed reproduction of a Red Sox painting by Susan Miller-Havens.

Estimated value: $1,000
Starting Bid: $600
Availability: Lunch within the calendar year on a date to be set with Dan Shaughnessy; Red Sox tickets and Fenway Park tour — winning bidder must arrange with Red Sox on March 1, 2019 (the day after the Bash)
Donated by: Dan Shaughnessy, the Boston Red Sox, Susan Miller-Havens, and Little Donkey

Miami Beach: Luxury Condo Week Stay
Enjoy the sea and the sand during a week stay in this luxurious Miami Beach condo! The recently-renovated Pavilion building is located in the Mid Beach/"Millionaires Row" area of Miami Beach, a narrow strip of land between the Atlantic Ocean and Indian Creek, just a few steps to the beach and a few minutes' drive to world famous South Beach. The Pavilion has stunning ocean, bay, and city views with year-round bay and ocean breezes.

Estimated Value: $2,600
Starting Bid: $900
Availability: by arrangement with the owners several weeks in advance
Donated by: Daniel Serfaty & Irene Mizrahi

Celtics vs. Rockets: 2 Tickets for Sunday, March 3
Watch the Celtics vs the Rockets on Sunday, March 3, 2019 at 3:30 p.m. Cheer from these great, hard-to-come-by TD Garden seats, 10 & 11 in Loge Section 2 (behind the visitors' bench, between the basket and the foul line) as the beloved Boston Celtics, battling in the Eastern Conference League, take on the hot Houston Rockets!

Estimated Value: $1,300
Minimum bid $1,000
Availability: Sunday, March 3, 2019 at 3:30 p.m.
Donated by: Anonymous
Private Dinner by Chef Carl Dooley
Throw the dinner party of your dreams when Chef Dooley prepares a meal for 4, paired with wine, in your own home! Carl Dooley, Executive Chef of The Table at Season to Taste — and a proud CRLS alum — is wowing diners and critics alike, recently earning Boston Magazine's highest rating, "Four Stars, Extraordinary" and "Best of Boston" Awards. Chef Dooley learned from the best in the business by cooking in the kitchens of James Beard Award-winning chefs, earned himself the 2015 "Rising Star Chef" Award, and competed on Top Chef (Season 13 in 2016) cooking his way to the Top Five Finals. Read Devra First's rave review of A Table at Season to Taste from the Boston Globe.

Estimated Value: Ten Stars, Extra-extraordinary!
Opening Bid: $600
Availability: by arrangement with Chef Carl Dooley
Donated by: Chef Carl Dooley
Photo by: Stephanie Cornell

Online Auction Now Open!
Visit the Bash Event Page and scroll down to see the array of items and experiences, including an exclusive tour of the Broad Institute's Genomics Platform, a stay in a Cape Cod cottage, sessions with a college consultant, gift cards, theater tickets, books autographed by their distinguished authors, and new ways to enjoy pie, cheese, and wine. You can bid in the online auction, whether or not you attend the Bash on February 28, through Friday, March 1.

To see our Online Auction visit our Event Page>>

Help Make the Bash a Smash!
We're in need of volunteers to help us run the big event on February 28 at Google in Kendall Square. Make a difference in the educations and futures of CRLS students while you have fun, meet like-minded people, and partake in a delicious smorgasbord and flowing beverages! CRLS students will receive community service credit; be sure to have your forms signed. Please email [email protected] for more information.

Become a 2019 FOCRLS Spring Bash Event Sponsor HERE
Thank You to Our
2019 Spring Bash Sponsors
(as of 2/20/19)
Falcon Level: $10,000
Benefactor Level: $2,500
DivcoWest / Cambridge Crossing
Elaine Schear
Co-Founder, Friends of CRLS
Trinity Property Management, Inc.
Champion Level: $1,000
Alexandria Real Estate Equities
Anonymous (2)

Maria & Greg Jobin-Leeds
Massachusetts Institute of Technology
Supporter Level: $500
Tom & Nancy Akbari

East Cambridge Business Association
Gerald & Kate Chertavian

Tracy & Bertil Jean-Chronberg
Jamie Ann Sabino & Richard B. Klibaner

Daniel Serfaty & Irene Mizrahi

3MJ Realty / Ten Essex, Central Square
Become a 2019 FOCRLS Spring Bash Event Sponsor HERE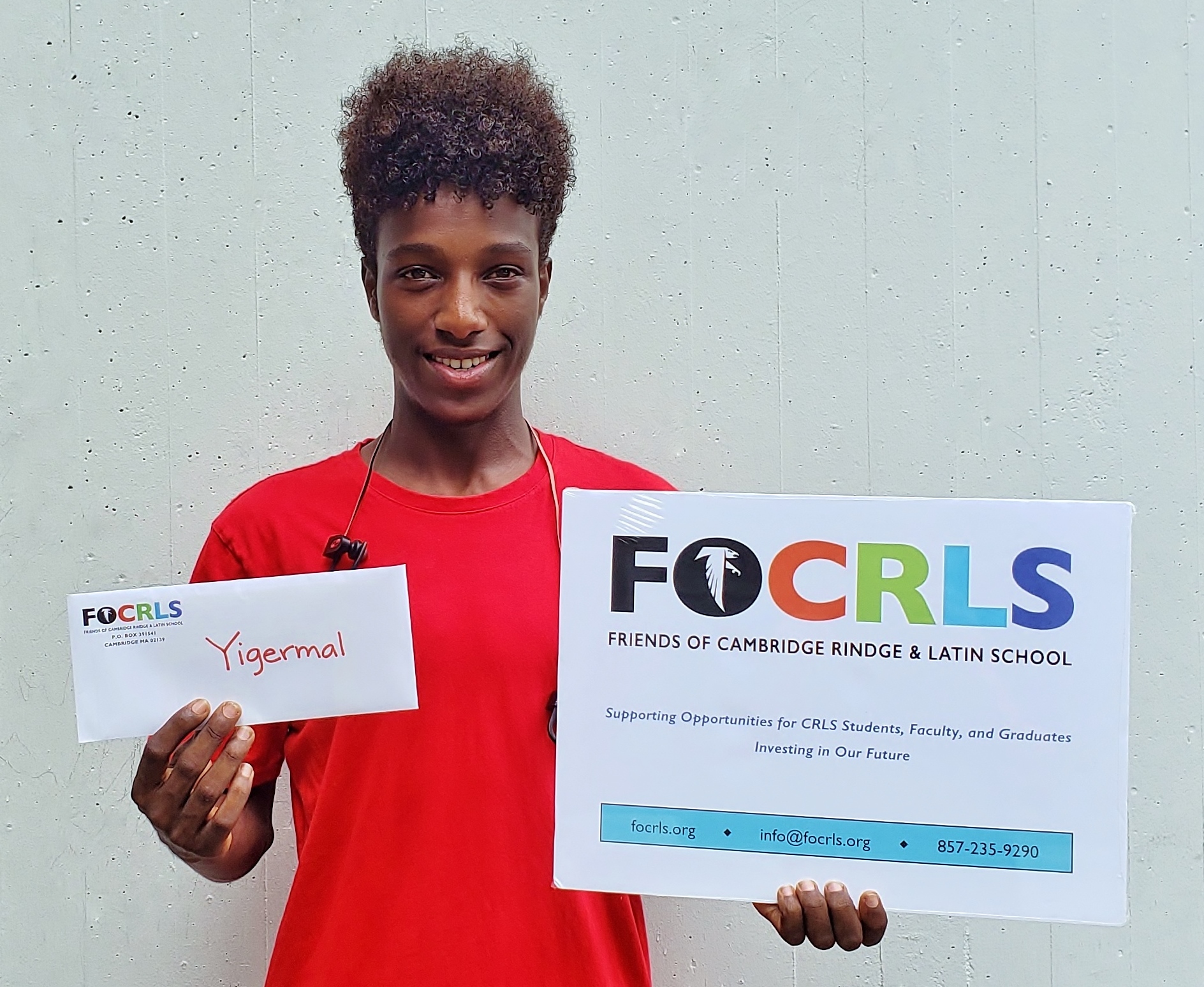 ---
Donate to ​the FOCRLS General Fund
Donate to our Scholarship General Fund
Donate to 100 by 100 Cambridge Business Community Scholarships
Sign Up for Our Email List

Meet a few of our awardees:
Student Travel Fellows Lorra, Isaiah, Summia,
and Reggie in Ecuador, 2018, on a trip that
included the Galapagos Islands
Thomas, Class of 2018 awardee of the
Juliette Kayyem & David Barron Scholarship
for Children of First Responders — now
studying marine biology at the
University of Rhode Island —
and his family, including his dad, who,
before retiring, served as a
Cambridge police officer for 30 years


Rakeyah (holding FOCRLS sign),
CRLS Class of 2018 recipient of the
"100 by 100" Cambridge
Business Community STEAM Award
for Science, now studying at
UMass Amherst: "I want to become
a biotechnologist to have
experiences where I can not only satisfy
my great passion for science but also help
people be healthier and to find
breakthrough cures that will save lives."

Lamisa, CRLS Class of 2018 recipient of the
First Scholars Award and the
Dr. David A. Link Scholarship for the
Health Professions, now studying at
Simmons University:
"I am now studying Neuroscience,
Computer Science, and Public Health
in hopes to find which one (or two!)
I enjoy best. I'm thankful for receiving these
scholarships and I am the happiest
I could be at Simmons. "
Xolotl, Class of 2018 awardee of the
CRLS Core Values Scholarship and the
Colonel & Mrs. Henry Bayard McCoy Memorial
Scholarship, whose "aspirations are to become
a professor who can write, teach, and research
about Latinx masculinity and gender, and the
unseen impact it has on people's
everyday lives," is now studying at
Stanford University.