The CRLS National Science Olympiad Team
supported by a FOCRLS Faculty Grant to Kris Newton (at far left), physics teacher and instructional coach.
Welcome to Friends of CRLS (FOCRLS)
The mission of the Friends of Cambridge Rindge and Latin School is to develop, support, and enrich the academic and social development programs at Cambridge Rindge and Latin School and to support the alumni of CRLS and its predecessor schools. In so doing, FOCRLS promotes achievement and a greater community investment in the future of CRLS, its current students, and its graduates. Friends of CRLS is a tax-deductible 501(c)(3) non-profit association founded by two CRLS parents in 2006.
Upcoming Events
FOCRLS Volunteer Meetings 2015-2016
Mon., Sept. 28, 2015, 7-8:30 pm (Pearl K. Wise Library, CRLS Main Building, 2nd floor)
More dates TBA
School Committee Candidates CRLS Forum
Mon., Oct. 26, 2015, 7-8:30 pm (Media Cafeteria, CRLS Main Building, 1st floor)
News
Tickets now on sale for the FoCRLS 2016 Mayfair Raffle!
Many chances to win great prizes from local businesses! Proceeds of the raffle fund scholarships, student travel fellowships, faculty innovation grants, and more! Click here to see the many prizes from our generous local business donors and purchase online. Prize list is still expanding — last year we had 64 prizes from 53 businesses!
If you prefer purchasing tickets by cash or check, we will be selling tickets Saturdays in April in front of the following locations:
Central Square Post Office – 10am-2pm
Cambridge Public Library Main Branch – 1-5 pm
Porter Square Shaws Market – 1-5 pm
Fresh Pond Market – 1-5 pm
and at the Harvard Square Mayfair on May 1.
Student Travel Fellowship application now available (10/19/2015)
We are pleased to announce that we are now accepting applications for Travel Fellowships from financially and academically qualified students for domestic and international school trips for the 2015-2016 academic year.  To get an application, please click here.
Brand new slideshow about FoCRLS (10/5/2015)
Friends of CRLS's new slideshow, which features photos of many of our awardees, is a great overview of our programs, impact, outreach, and fundraising. We hope you will take a few moments to scroll through the .pdf of the Friends of CRLS slideshow here.
Friends of CRLS 2015-16 School Year Kick-Off Community Meeting on September 28, 2015!
Please join us for our 2015-16 kick-off Community Meeting on Monday, September 28 from 7-8:30 pm in the Wise Library (2nd floor) of CRLS to ring in the new school year, meet and mingle, talk about how to make the most of the CRLS experience for you and your child(ren), learn about FoCRLS, and enjoy refreshments. Please click here for more information.
Class of 2015 Scholarships (9/14/2015)
FoCRLS presented $24,700 in college scholarships and graduate awards in June to 24 members of the CRLS Class of 2015. This surpassed our previous record of $15,600 to the Class of 2014 by $9,100 (almost 60%). The scholarship fund, which started in 2010 with two scholarships, is increasing even further for the Class of 2016. Please click here to view our press release.
Friends of CRLS Community Meeting: End of Year Round-up with special guest Principal Damon Smith on May 28, 2015
Please join us on Thursday, May 28 from 6:30 – 8 pm in CRLS's Pearl K. Wise Library for the final FoCRLS meeting of the year. Parents, guardians, alumni, staff, and Cambridge community members welcome! Hear about the many Student Travel Fellowships, Scholarships, and Faculty Innovation Grants that FoCRLS awarded during the 2014-15 school year and how they made it all happen. Whether you are interested in becoming involved or would just like to learn more about how FoCRLS programs provide opportunities for CRLS students, grads, and faculty, please join FoCRLS for this special event. Refreshments will be served.
FOCRLS' Newest Student Prize Announced! (5/11/2015)
We are excited to announce the newest student prize: The Calvin Hicks Memorial Award for the Study of Music. Please support this award generously in its inaugural year!
FOCRLS' Newest Scholarship Announced! (5/8/2015)
We are excited to announce the newest student scholarship: The Rose and Victor Rifkin Family Scholarship. Please support this scholarship to help the next generation reach the American dream.
The FOCRLS 2015 Mayfair Raffle was a great success! (5/4/2015)
The 2015 Mayfair Raffle is now over. FOCRLS would like to say a big thank you to all the wonderful volunteers who solicited donations, sold tickets and stood at tables for the Mayfair on May 3rd. You are an inspiring example of team work and dedication. Your work means 8 new Scholarships – in other words, four more years of the Unsung Heroes Program, Travel Fellowships, Faculty Grants, an impact that will be felt by many, many students in 2016. This year's raffle total of nearly $8,000 is almost a $1,000 increase over last year's sales. Plus we had fun together, with perfect weather and so many people happy to be outside. Thank you again and keep up the great work.
InvestCRLS Campaign Announced! (3/18/2015)
InvestCRLS is a new community-opportunity campaign to close in on the opportunity and achievement gaps at CRLS and unleash the diverse and extraordinary talents of our 1800+ students. It includes a new major donor ($1,000+) campaign and an exciting "100 x 100" business initiative. … Continue Reading
Winter's End 2015 Newsletter now available (3/18/2015)
The FoCRLS Winter's End 2015 Newsletter is now available, and it is full of updates on FoCRLS programs — including Scholarships, Student Travel Fellowships, Faculty Innovation Grants, and the "It Takes a Village" College Success Program (ITAV) — as well as the FoCRLS MayFair Raffle, upcoming House Party, new "100 by 100" campaign, and more. To learn about how FoCRLS makes opportunities happen at CRLS, to become involved, or to donate, please read the FoCRLS newsletter by clicking here.
     .
CRLS Principal Damon Smith (far left, standing) with members of the Boards of the Harvard Square Business Association and FOCRLS. (Photo credit: Larry Aaronson)
CRLS Alumni enrolled at UMass Boston participate in a luncheon with UMass Boston Chancellor Dr. Keith Motley and others in UMass Boston's college success activities: from left to right, Daniel Noel, FOCRLS' It Takes a Village Project/Cambridge College Success Initiative On-site College Counselor; Fahim Sinha, CRLS 2011; Dr. Keith Motley, Chancellor; Evan Cooke, CRLS 2010; Liliana Mickle, Special Assistant to the Vice Provost, Academic Support Services & Undergraduate Studies, and member of FOCRLS It Takes a Village project Advisory Committee.
FOCRLS goes to Google Cambridge.
FOCRLS goes to Google Cambridge — CRLS student reads a poem.
FOCRLS House Party with special guest Principal Smith.
CRLS seniors take part in a college success program sponsored by Friends of CRLS, called "It Takes a Village."
Cheerful volunteers at the FOCRLS table on 5% Day at the Whole Foods Fresh Pond store.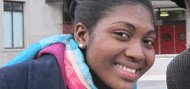 Help us provide inspiration and opportunities for Cambridge high school students.