Buy > TICKETS < to the 2019 FOCRLS Spring Bash HERE
Become a 2019 FOCRLS Spring Bash Event Sponsor HERE
More Event Sponsor Information>>

Emcee Juliette Kayyem
Special Guest State Representative Marjorie Decker
Student Performers, CRLS Parents and Faculty, Community Leaders…
and You???
Help Make the Bash a Smash!

We're in need of volunteers to help us run the big event on February 28 at Google in Kendall Square. Make a difference in the educations and futures of CRLS students while you have fun, meet like-minded people, and partake in a delicious smorgasbord and flowing beverages! CRLS students will receive community service credit; be sure to have your forms signed. Please email [email protected] for more information.


Thank You to Our
2019 Spring Bash Sponsors
(as of 1/17/19 — more to come)

Announcing Our 2019
Faculty Innovation Grantees

Congratulations to the teachers and staff members being awarded a total of $11,500 to implement their ideas for energizing education!
David Figueroa, Teacher, ELL Department (pictured above) — "The Common Ground through Dance Initiative" to provide workshops led by Jean Appolon, director of Haitian contemporary dance company JAE, addressing themes of identity through dance and movement.
Alvaro Amaral and Shantu Salvi, Health and Wellness Teachers — "Development of Nutrition Education Curriculum with Healthy Foods" to make the Nutrition course in the wellness department more skills-based and engaging by introducing students to new foods and new ways to prepare food.
Sandra Cañas, Enroot Program Director, and Juan Casillas, Faculty Latino Club Adviser — "African American and African Caribbean Showcase / Latino Club" to bring performers to CRLS to showcase the different music and dances from Afro Caribbean cultures at an event organized by students.
Brett Cramp, Drama Teacher — "Guest Artist Theater Maker & Choreographer" to collaborate with dancer/choreographer/actor Junior Cius, a CRLS alum, on an original physical theater piece.
Vera Duarte, Teacher-in-Charge, ELL Department — "Bringing the Prom Experience to Immigrant Youth" to provide half-price prom tickets to English Language Learners so money is no barrier to immersing themselves in the CRLS community.
Charlotte Dumont, Teacher, ELL Department — "CRLS Department of English Language Learners Community Building Project" to foster a sense of belonging in the school community by presenting CRLS t-shirts and hoodies as prizes and awards to deserving students at ELL events.
William McDonald, Biology Teacher — "Antibiotic Resistance Lab" to give students the opportunity to witness evolution in real time over the course of two weeks using current lab researcher techniques.
Emmanuel Oppong-Yeboah, 11th Grade English Teacher — "CRLS Open Mic + Poetry Series" to invite local poets to share their craft, working towards creating a youth-centered space for expression.
Ivan Stefanov, Chorus Teacher, A Cappella Adviser — "A Cappella Guest Artist" to invite producer Evan Linsey to work with CRLS a cappella students in learning techniques characteristic of collegiate groups.
Laura Umbro, Music Teacher — "CRLS Chamber Music Collaboration" to invite chamber music professionals from Longy School of Music and Radius Ensemble to perform, facilitate master classes, and coach student musicians.
Susie Van Blaricum, Adviser to CRLS Student Government Junior Representatives — "Junior Prom" to provide a more cost effective dance for 11th graders, with a large number students involved in planning.
Since 2007, FOCRLS has presented Faculty Innovation Grants
to a total of 203 CRLS teachers and staff members!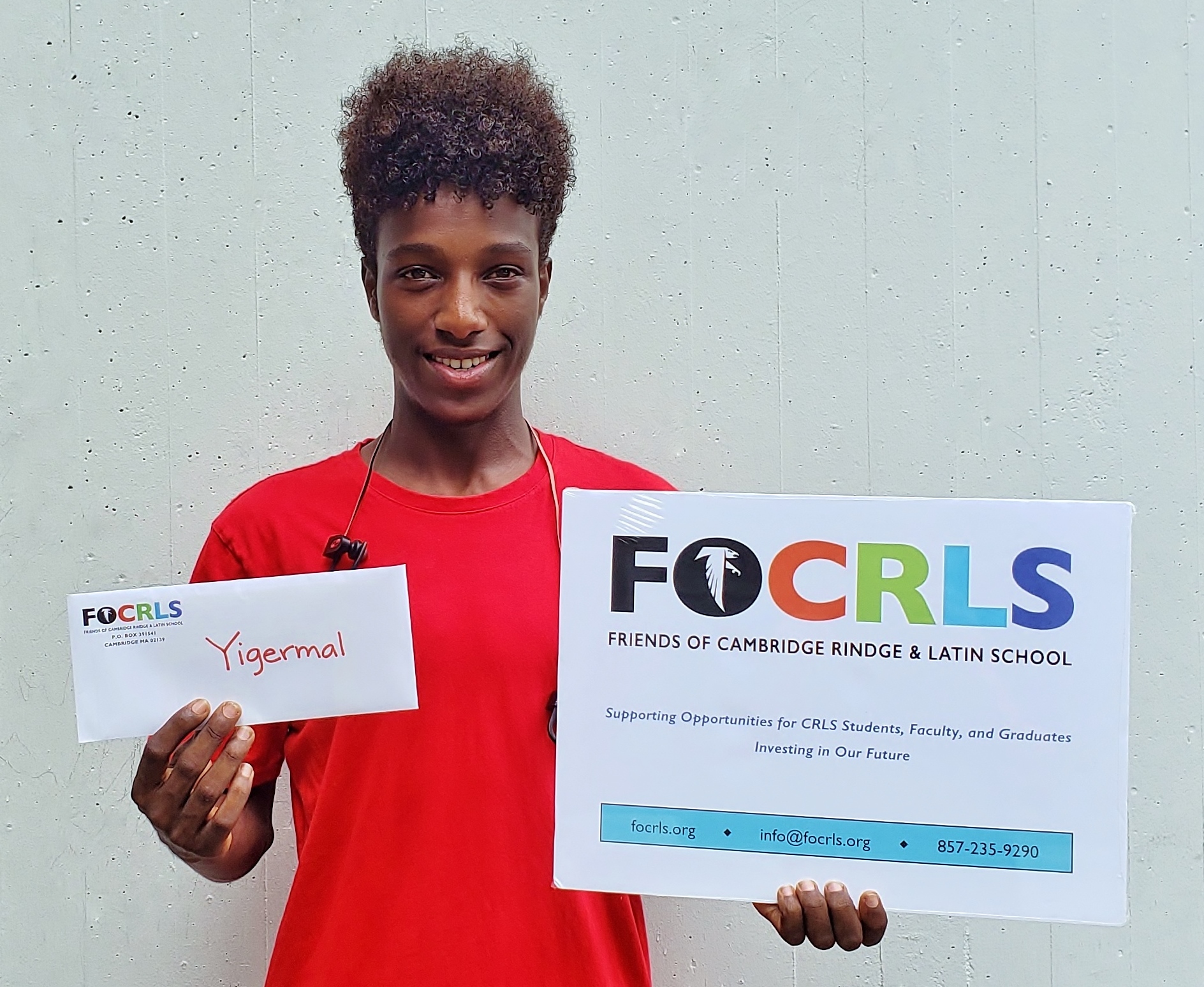 ---
Donate to ​the FOCRLS General Fund
Donate to our Scholarship General Fund
Donate to 100 by 100 Cambridge Business Community Scholarships
Sign Up for Our Email List

Meet a few of our awardees:
Student Travel Fellows Lorra, Isaiah, Summia,
and Reggie in Ecuador, 2018, on a trip that
included the Galapagos Islands

In 2019, FOCRLS is easing trip costs with
Travel Fellowships for students journeying to
Switzerland, Italy, France & Spain (April);
Japan (June); and Greece & Italy (July)!


Thomas, Class of 2018 awardee of the
Juliette Kayyem & David Barron Scholarship
for Children of First Responders — now
studying marine biology at the
University of Rhode Island —
and his family, including his dad, who,
before retiring, served as a
Cambridge police officer for 30 years


Marie, Class of 2018 awardee for the
Patrick Ewing Scholarship, now studying at
UMass Lowell with plans of becoming a
physical therapist: "I want to be able to
help people recover and encourage people
not to give up, even when they think that
the state they're in is permanent or is a
barrier preventing them from
doing what they were able to do before."


Sonam, Class of 2018 recipient of the
First Scholars Award, now studying
marketing at UMass Amherst:
"My parents always told me that, because
I am a student, my education comes first.
This will only benefit me, as excelling in school
leads to a more prosperous future. This mindset
is definitely one that is shared amongst other
students who were taught this by their
own immigrant parents."
Xolotl, Class of 2018 awardee of the
CRLS Core Values Scholarship and the
Colonel & Mrs. Henry Bayard McCoy Memorial
Scholarship, whose "aspirations are to become
a professor who can write, teach, and research
about Latinx masculinity and gender, and the
unseen impact it has on people's
everyday lives," is now studying at
Stanford University.
Rakeyah (holding FOCRLS sign),
CRLS Class of 2018
recipient of the "100 by 100" Cambridge
Business Community STEAM Award
for Science, now studying at
UMass Amherst: "I have always
dreamed about working in
healthcare services. I want to become
a biotechnologist to have
experiences where I can not only satisfy
my great passion for science but also help
people be healthier and to find
breakthrough cures that will save lives."

Lamisa, CRLS Class of 2018 recipient of the
First Scholars Award and the
Dr. David A. Link Scholarship for the
Health Professions: "When I received the
FOCRLS scholarship, I was extremely
grateful because I had help to pursue my
dreams of studying health.
Simmons was one of the more
expensive schools on my college list but it was
also one of the more suitable schools
for health sciences.
With the financial help of the scholarship,
I am now studying Neuroscience,
Computer Science, and Public Health
in hopes to find which one (or two!)
I enjoy best. I'm thankful for receiving this
scholarship and I am the happiest
I could be at Simmons. "