We have a fresh new logo!
Thanks to CRLS parent and FOCRLS volunteer Carolyn Duffy for her time and talent!
Welcome to Friends of CRLS
(FOCRLS)
The mission of the Friends of Cambridge Rindge and Latin School is to develop, support, and enrich the academic and social development programs at Cambridge Rindge and Latin School and to support the alumni of CRLS and its predecessor schools. In so doing, FOCRLS promotes achievement and a greater community investment in the future of CRLS, its current students, and its graduates. Friends of CRLS is a tax-deductible 501(c)(3) non-profit association founded by two CRLS parents in 2006.
News
Student Travel Fellowships — applications for 2018 trips to
Costa Rica, Ecuador & the Galapagos Islands, Ireland, and France
are being accepted now through October 20.
Click Here for more information.
Friends of CRLS is celebrating our first ten years of creating and providing academic resources* at CRLS!
Please help us celebrate our first decade and launch the second!
Friends of CRLS 10th Birthday Bash
"Celebrating our Students, Investing in our Future"
Google – Kendall Square
3 Cambridge Center – 355 Main Street
For more information about tickets, sponsorships, or donations
                *  Faculty Innovation Grants, College Scholarships, Travel Fellowships, The Unsung Heroes Program,
Faculty Distinction Awards
Student Travel Fellowships for April Vacation Trips
This year's international destinations are Cuba and Peru during the April school vacation week! Since 2010 Friends of CRLS has provided Student Travel Fellowship grants to 54 academically-qualified "fellows" from low-income families to participate in school-sponsored cultural, service-learning, and club-based trips to New York, England, France, Spain, Turkey, Panama, El Salvador, the Dominican Republic, the Island School in the Bahamas, and the Galapagos Islands.
Update: Starting 9/6/16, Friends of CRLS will accept applications from financially and academically qualified students for trips scheduled for the 2016-17 school year. PLEASE CLICK HERE FOR A 2016/17 STUDENT TRAVEL FELLOWSHIP OVERVIEW AND APPLICATION.
The Cambridge Rindge and Latin School Field House rocked at the June 9th graduation ceremonies to cheers and yelps as Faculty Distinction Awardees were announced by Principal Damon Smith. Meighan Bannon, Jacqueline Cesario, Doug McGlathery, and Tanya Trayer received Faculty Distinction Awards, sponsored by Friends of Cambridge Rindge and Latin School (FoCRLS) and presented by Principal Smith and FoCRLS Executive Director Elaine Schear. Honorees were nominated by the Class of 2016 to recognize teachers and staff members who have made the greatest impact during their time at CRLS.
Scholarship and Award Night 2016
Friends of Cambridge Rindge and Latin School (FoCRLS) presented $33,100 in scholarships and awards to 24 members of the Cambridge Rindge and Latin School (CRLS) Class of 2016 at Scholarship and Award Night, Thursday, May 19.
Scholarship and Award Night began with a "first" at CRLS — a pre-ceremony reception hosted by FoCRLS. Sponsors, recipients, and honored guests, including Cambridge Mayor Denise Simmons, gathered in CRLS's Kimbrough Way to get acquainted, enjoy refreshments prepared by Rindge School of Technical Arts (RSTA) culinary students, to the groove of the CRLS World Jazz Ensemble, directed by Guillermo Nojechowicz. CRLS Principal Damon Smith, FoCRLS Executive Director Elaine Schear, and 2013 First Scholar Awardee Yvonne Appiah each addressed the crowd. Decorations included balloons donated by Coady Florist.
After an inspiring ceremony in the Fitzgerald Theater, where approximately 200 awardees received their scholarship certificates, a post-ceremony collation in the theater lobby provided opportunities for congratulations, and roses donated by Brattle Square Florist at the FoCRLS table.
Congratulations to all of the FoCRLS scholarship recipients and to all others! If you need instructions on how to claim your FoCRLS scholarship check, please email [email protected], call 857-235-9290, or visit CRLS Room 2136. See more photos on the Friends of CRLS Facebook page.
MayFair Raffle 2016
The 2016 MayFair Raffle set a record for Friends of CRLS by raising over $10,000! (A whopping 25% over last year's $8K total!) The success of the fundraiser is a result of the combined efforts of volunteers, local businesses who donated prizes, and ticket buyers eager for chances both to help students and win one of dozens of gift cards from restaurants, stores, and services, and a football autographed
by Rob "Gronk" Gronkowski of the New England Patriots! Winners will be notified in early June. All proceeds benefit the students, faculty, and grads of Cambridge Rindge and Latin School. We greatly appreciate the many volunteers who procured prizes and sold tickets at tables throughout the city on six weekends and at the Harvard Square MayFair on May 15, and to the Harvard Square Business Association, whose many years of support helped launch and sustain the FoCRLS Raffle. Special thanks to Raffle Table Coordinator Karen Tsalah, pictured here at the Harvard Square MayFair, who rallied the volunteers, and created the beautiful FoCRLS tablecloth to draw ticket buyers! See more photos on the Friends of CRLS Facebook page.
FoCRLS House Party Spring 2016
House Party organizers Marti O'Mara, Cam Lane-Flehinger (CRLS '16), FoCRLS Executive Director Elaine Schear, Arlene Holtzman, hostess Martha Sieniewicz, and Liz McNerney (not pictured: Amy Oliver)
On April 10, Friends of CRLS held a House Party hosted by CRLS parents Martha and Tom Sieniewicz in their Cambridgeport home.  The gathering, which raised $4,911, was made possible by a great team of house party organizers and CRLS student ambassadors.
The afternoon included presentations by CRLS Principal Damon Smith, High School Extension Program (HSEP) Principal and FoCRLS Faculty Innovation Grant awardee Mawakana Onifade, and CRLS Biology/Marine Biology faculty member Paul McGuinness. Musical entertainment was provided by CRLS a cappella group Girls Next Door. The dazzling buffet featured donations from Farmers to You, Fresh Pond Market, Iggy's Bread of the World, Middle East Restaurant, Petsi Pies, and Toscanini's Ice Cream.
5% Day and $17,840 for FoCRLS from Whole Foods
April 6 was 5% Day for Friends of CRLS at Whole Foods Market stores, a four-location event that earned our organization a donation total of $17,840!  All proceeds benefit the students, grads, and faculty of Cambridge Rindge and Latin School.  Student and adult volunteers attended FoCRLS tables at all four participating stores — Prospect Street, River Street, and Fresh Pond in Cambridge as well as Beacon Street in Somerville — representing CRLS and FoCRLS and reminding shoppers that 5% of their entire purchase helps bring opportunities to Cambridge's only public high school.  On May 26, there was an official presentation at the Fresh Pond store with a giant check bearing the donation amount.  FoCRLS Executive Director Elaine Schear says that the Whole Foods contribution is "the kind of generous corporate investment in our whole student community that will have a broad impact on their learning and aspirations. Students and parents came out in force to be a presence in the stores throughout the day on April 6th.They understand the significance."  Thank you to Cambridge and Somerville Whole Foods Marketing & Community Liaison Matthew Keller, the managers and team members of the four stores, our student and adult volunteers, and everyone who shopped that day!
Student Travel Fellowship application now available (10/19/2015)
We are pleased to announce that we are now accepting applications for Travel Fellowships from financially and academically qualified students for domestic and international school trips for the 2015-2016 academic year.  To get an application, please click here.
Brand new slideshow about FoCRLS (10/5/2015)
Friends of CRLS's new slideshow, which features photos of many of our awardees, is a great overview of our programs, impact, outreach, and fundraising. We hope you will take a few moments to scroll through the .pdf of the Friends of CRLS slideshow here.
Friends of CRLS 2015-16 School Year Kick-Off Community Meeting on September 28, 2015!
Please join us for our 2015-16 kick-off Community Meeting on Monday, September 28 from 7-8:30 pm in the Wise Library (2nd floor) of CRLS to ring in the new school year, meet and mingle, talk about how to make the most of the CRLS experience for you and your child(ren), learn about FoCRLS, and enjoy refreshments. Please click here for more information.
Class of 2015 Scholarships (9/14/2015)
FoCRLS presented $24,700 in college scholarships and graduate awards in June to 24 members of the CRLS Class of 2015. This surpassed our previous record of $15,600 to the Class of 2014 by $9,100 (almost 60%). The scholarship fund, which started in 2010 with two scholarships, is increasing even further for the Class of 2016. Please click here to view our press release.
Friends of CRLS Community Meeting: End of Year Round-up with special guest Principal Damon Smith on May 28, 2015
Please join us on Thursday, May 28 from 6:30 – 8 pm in CRLS's Pearl K. Wise Library for the final FoCRLS meeting of the year. Parents, guardians, alumni, staff, and Cambridge community members welcome! Hear about the many Student Travel Fellowships, Scholarships, and Faculty Innovation Grants that FoCRLS awarded during the 2014-15 school year and how they made it all happen. Whether you are interested in becoming involved or would just like to learn more about how FoCRLS programs provide opportunities for CRLS students, grads, and faculty, please join FoCRLS for this special event. Refreshments will be served.
FOCRLS' Newest Student Prize Announced! (5/11/2015)
We are excited to announce the newest student prize: The Calvin Hicks Memorial Award for the Study of Music. Please support this award generously in its inaugural year!
FOCRLS' Newest Scholarship Announced! (5/8/2015)
We are excited to announce the newest student scholarship: The Rose and Victor Rifkin Family Scholarship. Please support this scholarship to help the next generation reach the American dream.
The FOCRLS 2015 Mayfair Raffle was a great success! (5/4/2015)
The 2015 Mayfair Raffle is now over. FOCRLS would like to say a big thank you to all the wonderful volunteers who solicited donations, sold tickets and stood at tables for the Mayfair on May 3rd. You are an inspiring example of team work and dedication. Your work means 8 new Scholarships – in other words, four more years of the Unsung Heroes Program, Travel Fellowships, Faculty Grants, an impact that will be felt by many, many students in 2016. This year's raffle total of nearly $8,000 is almost a $1,000 increase over last year's sales. Plus we had fun together, with perfect weather and so many people happy to be outside. Thank you again and keep up the great work.
InvestCRLS Campaign Announced! (3/18/2015)
InvestCRLS is a new community-opportunity campaign to close in on the opportunity and achievement gaps at CRLS and unleash the diverse and extraordinary talents of our 1800+ students. It includes a new major donor ($1,000+) campaign and an exciting "100 x 100" business initiative. … Continue Reading
Winter's End 2015 Newsletter now available (3/18/2015)
The FoCRLS Winter's End 2015 Newsletter is now available, and it is full of updates on FoCRLS programs — including Scholarships, Student Travel Fellowships, Faculty Innovation Grants, and the "It Takes a Village" College Success Program (ITAV) — as well as the FoCRLS MayFair Raffle, upcoming House Party, new "100 by 100" campaign, and more. To learn about how FoCRLS makes opportunities happen at CRLS, to become involved, or to donate, please read the FoCRLS newsletter by clicking here.
     .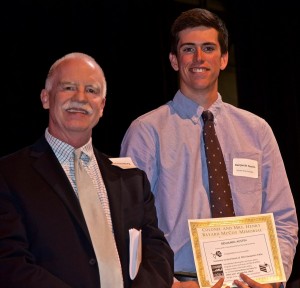 FoCRLS Scholarship Committee Chair Neil Rosenburg with a scholarship recipient at the Scholarship and Award Night ceremony.
A recipient and her family at the Scholarship Night collation.
Nell Beram listens to HSEP Principal Mawakana Onifade at the FoCRLS House Party on April 10.
CRLS Principal Damon Smith (far left, standing) with members of the Boards of the Harvard Square Business Association and FOCRLS. (Photo credit: Larry Aaronson)
CRLS Alumni enrolled at UMass Boston participate in a luncheon with UMass Boston Chancellor Dr. Keith Motley and others in UMass Boston's college success activities: from left to right, Daniel Noel, FOCRLS' It Takes a Village Project/Cambridge College Success Initiative On-site College Counselor; Fahim Sinha, CRLS 2011; Dr. Keith Motley, Chancellor; Evan Cooke, CRLS 2010; Liliana Mickle, Special Assistant to the Vice Provost, Academic Support Services & Undergraduate Studies, and member of FOCRLS It Takes a Village project Advisory Committee.
FOCRLS goes to Google Cambridge.
FOCRLS goes to Google Cambridge — CRLS student reads a poem.
FOCRLS House Party with special guest Principal Smith.
CRLS seniors take part in a college success program sponsored by Friends of CRLS, called "It Takes a Village."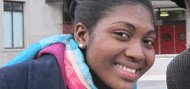 Help us provide inspiration and opportunities for Cambridge high school students.